Founded in 1976, Belchamp Morris take their name from the village of Belchamp St Paul, North Essex. They still practice and entertain at the village fete.
Originally formed to dance Morris in the Cotswold style, they decided in 1990 to convert to the dances and style of the Welsh Border Counties. Dancing in tailcoats, bowler hats and with blackened faces, for anonymity. Since making the change they have never looked back, their style is recognisable instantly!
Since 2021, our facepaint policy has been modified to exclude full-face, and also to allow for different colours and patterns to be customised by  individual members, whilst still offer a disguise against identification by interlopers, agents, and authorities.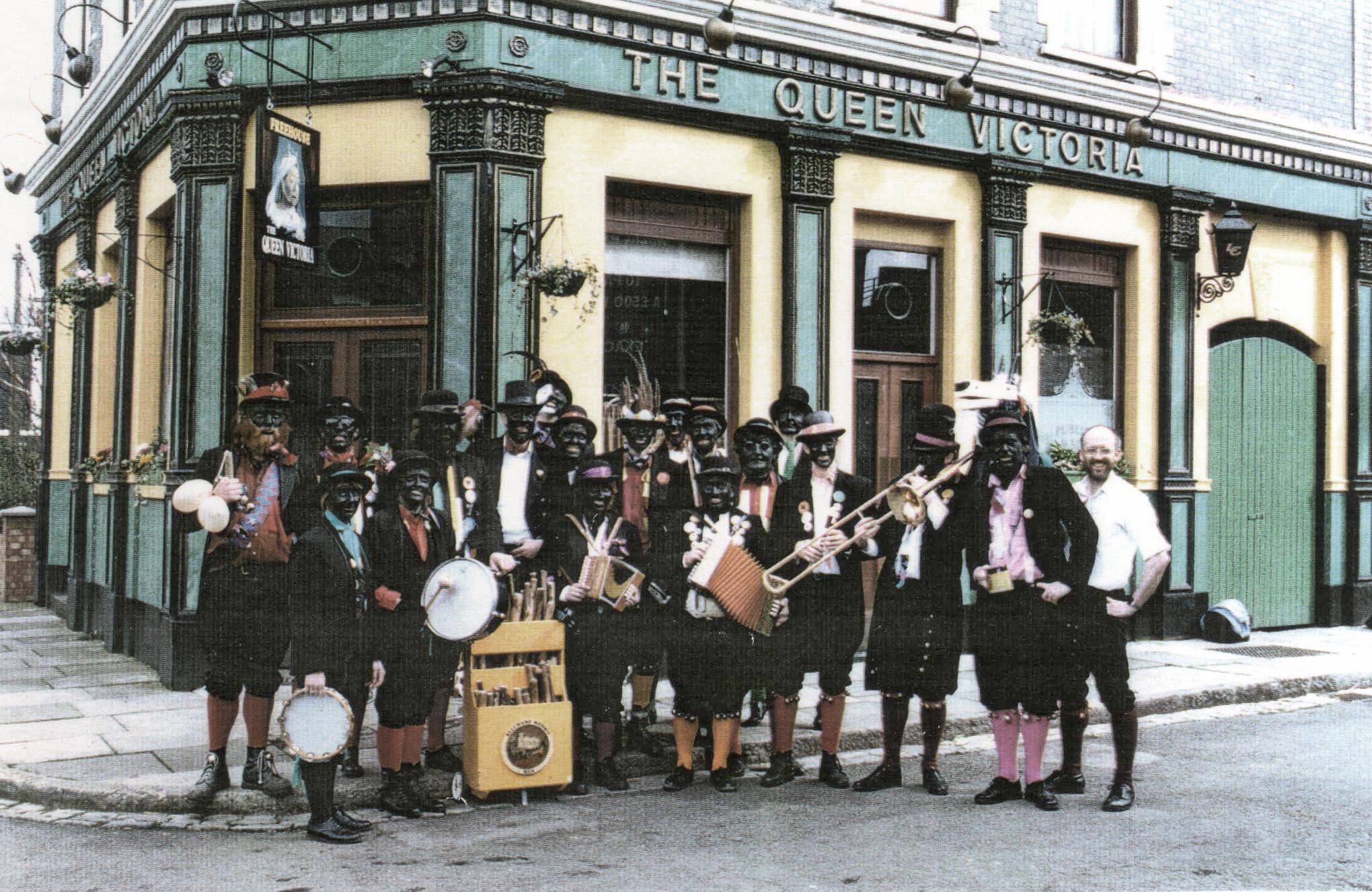 Membership into the Morris Ring was granted in June 1989 at the Dolphin ring meeting, Nottingham.
East Enders
In 1992 we appeared on Eastenders, asked by the producers to dance without blackened faces. Belchamp refused, as this is against Border tradition, the producers relented and the show went on.
In January 2020 this episode was shown as a repeat. There's a compilation of the Belchamp scenes on YouTube. There's an article about the episode on an East Enders fan site too.
We have toured all over the world, East Germany, France, Ireland, Scotland and America in 1991 and 2001. In 2005, 2007 and 2011 Belchamp were invited to the Loch Goilhead Fiddlerís Workshop, performing with local musicians and providing a Cèilidh in the evening.
Molly dances are also performed calling themselves the Belchamp Ploughboys. They are also a mean turn in the pub afterwards, with folk songs and music old and new, including the unforgettable 'Why, why, why Delilah?'